If you live in an older home built from the 1950s to the 1980s it might have those icky old popcorn ceilings. Excellent Painters understands exactly how to remove that stuff without making a huge mess of everything sitting below it. We will prime and paint the ceiling to your preference, giving your older room a whole new feel.
Why Remove Your Popcorn Ceiling?
While popcorn ceilings seemed like a good idea when houses were being built, they haven't aged very well. They were originally used by builders to give ceilings a uniform look that was cheap and easy to spray on. There was also some noise dampening that helped with the acoustical properties of the room as well. Ceiling popcorn had the added advantage of covering up minor defects and sometimes even shoddy workmanship. Over the years, though, that popcorn has a way of accumulating dust, dirt, and debris. Any attempts to clean it usually result in accidentally scraping off bits of the popcorn material. The popcorn also has a fondness for absorbing moisture and oftentimes discoloring as a result.
If any of that applies to your ceiling, it's time to remove that junk. Replace it with the same kind of texture that you might find on a wall or just keep it smooth. Either way, you won't have to look at that ugly old popcorn anymore.
Find Your Local Painter

To better serve you, please let us know the location in which you need service.
Services We Offer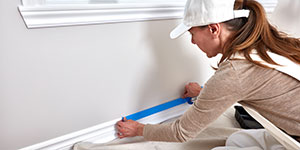 The inside of your home is your personal private space and Excellent Painters respects that. We might as well paint your walls while when we have finished with the ceiling. Every home needs a refresh once in a while and we are here to help with that. We'll be in and out of each room as quickly as we can, leaving each one ready for you and your family to enjoy.... Read more.
If you are interested in obtaining any of these services from Excellent painters
please use the button below to schedule an appointment with one of our estimators.
---
How It Works
Our estimator will come to your home and measure how much area your ceiling covers and provide you with a no obligation estimate at no cost to you. Once you have accepted our offer a project manager will contact you to schedule a time when the work can be performed.
On the scheduled day for the project to start, our crew will arrive and put down sheets of plastic to protect your floors. It helps if you have removed the furniture from the room before they start.
Then, they will spray the popcorn with water and use scrapers to remove the popcorn from the ceiling. This is the messy part, you don't want to be there to watch this, you might get popcorn debris all over you.
Once the popcorn is all removed, they will prepare the ceiling for texture and painting. This may include sanding and minor repair work. They will apply a primer and then a texture that you have agreed to beforehand. Most commonly this will be a thin knockdown style of texture, like you see on many walls.
The next step is painting. The crew will spray or roll on the paint that you have chosen, leaving your ceiling far more beautiful than when they started.
The final step is cleanup. They will roll up those plastic sheets, getting rid of the old popcorn debris and dispose of them in the most appropriate way and in accordance with all local laws and ordinances.
Now you can sit back and enjoy your new ceiling!