Excellent Painters can paint the exterior of your home no matter how it's constructed. We can easily paint wood, siding, concrete, brick, metal, or plastic. Different surfaces require different kinds of paint and we understand exactly what to use on each kind of surface regardless of whether it has been previously painted or not. You will love the end result.
Why Paint Your Exterior?
Every home has a different structure (unless you live in suburbia where all the homes may have identical structure). You can make yours stand out or fit in or just look nicer.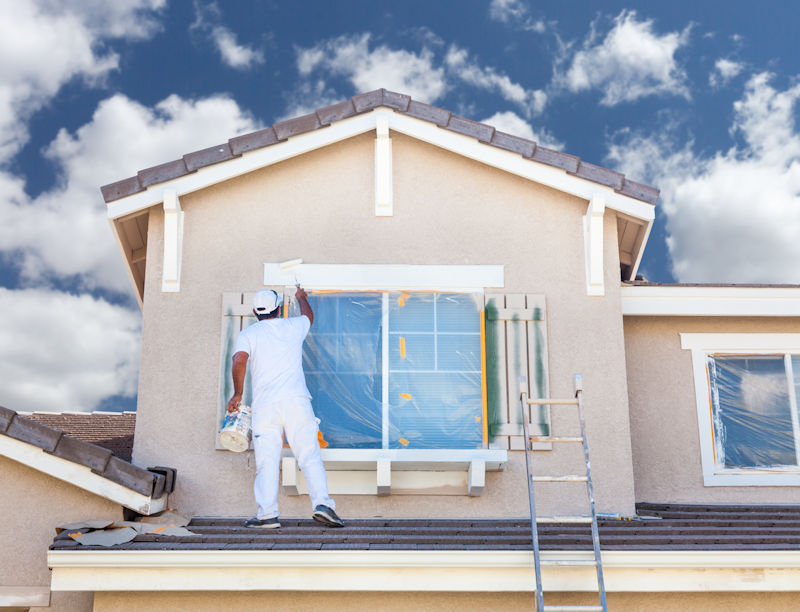 Appearance - If your home looks shabby, drab or like it might fall down any second a new coat of paint can drastically change that impression. Take your place from Blah to Wow! In just a couple of days. Painting is the easiest way to make your house look better.
Resale Value - Houses that have recently been painted sell quicker and for more money than those that haven't. This is the cheapest way to add value to your home, whether you are putting your place on the market or just want to impress your friends. Painting can give you more bang for your buck than remodeling your kitchen.
Protection - You live in a house because you want to be protected from the elements. If you don't protect your house, then it can't protect you. Think of exterior paint as the outermost layer of protection for your home. It doesn't matter if your house is made of wood, brick, or concrete. It doesn't matter if your siding is made of wood, vinyl, metal or some fancy synthetic material. The paint protects the material under it. Wood is very susceptible to weather. Too much sun or rain or cold can deteriorate your wooden structure quickly. Protect that wood with paint and your wood will last indefinitely. Even brick can fall apart after years of exposure to wind and rain and freezing temperatures. But painted bricks can last forever, as long as the paint is maintained.
Trends - If you like to keep up with the latest trends, then don't forget about your house. Exterior painting trends come and go every year or so. Recent trends (that may no longer be trendy) included paint the whole house black - even the trim, earth tones, bold red, and light blue. If you like your home to look like you're keeping up with the times, just roll through a newly built subdivision or ask a realtor. They always know what colors are trending.
Improvement - Home improvement can include adding a new room or popping the top on your house. If you're adding more exterior to your house, then it's probably a good time to paint the whole thing. You're going to have to paint the new parts anyway, so you might as well paint the entire house.
Find Your Local Painter

To better serve you, please let us know the location in which you need service.
Services We Offer

If you are interested in obtaining any of these services from Excellent painters
please use the button below to schedule an appointment with one of our estimators.
---
How It Works
When you let Excellent Painters know that you need your house's exterior painted, we will send an estimator over to take some measurements and chat with you about your needs and preferences. They will provide you with a free no-obligation estimate right there on the spot. Take your time and look this over and then let us know when you are ready to get started. Once the estimate is accepted, a Project Manager will contact you to determine a good time for the work to get started.
On the first day, our crew will take a careful look at your walls and trim. They will spend some time scrubbing or power washing the walls. They may also find things that need to be repaired. Once any repairs are completed the crew can finish the prep and move on to painting. Prep may also include scraping off any loose old paint and sanding down rough surfaces. If you have a relatively big house, it may take them a whole day of work just to complete the prep.
Before painting with your final color, they may need to paint with primer. This is most common when changing from a dark to a light color or when there is a lot of unpainted wood or siding material to cover. They will likely paint the walls with a sprayer and use brushes for the trim. During this phase of the work, it's best to leave the crew alone to do their work. It could be hazardous to interrupt workers while they are up on ladders and concentrating on their job. Depending on the size of your house and job they have been asked to perform, it may take a few days for them to complete the work.
Once they are finished, one of the painters or a project manager will walk around the house with you to make sure you are satisfied with the work. If it all looks good, they will take a few photos, pack up and leave. You will receive an email with instructions on how to pay.
Done! Enjoy your freshly painted home.