Wooden fences and decks sit out in the weather for years and years. Over time the finish wears off. Make your deck and your fence look new with fresh stain and a protective clear sealant. Not only does restaining make it look better, but it also protects the wood from the sun and rain and the temperature swings that come with the changing seasons.
Why Stain Your Fence or Deck?
Appearance - Your fence and your deck reflect on the rest of your property. A fence that's falling down or a deck that dried out and has warped boards sticking up, makes your house look that much worse.
Longevity - Bare wood only lasts so long out in the elements. The sun and wind and rain and snow can turn a board into a pile of splinters in just a few years. Painted or stained and sealed wood can last for decades.
Resale Value - A home with a nice fence that's in condition is worth more than the same house with a creaky old fence that might not last much longer.
Usability - If you avoid sitting out on your deck because you always seem to get splinters, it's time to paint. A well maintained deck is a pleasure to enjoy. Wood that has been painted and kept coated will not rot or warp due to weathering. An uncoated deck might literally fall apart within ten years needing replacement. Decks aren't cheap or easy to build, so keep the one you have in top condition as long as possible and you will never have to worry about replacing it.
Protection - A sturdy nice looking fence will deter burglars and thieves more than a fence that's falling apart. A poorly maintained fence is not much better than no fence at all. If you walk around your neighborhood you will likely see some fences that are well maintained with paint or sealant and some that are not. This exercise alone ought to convince you of the value of keeping your fence coated.
or Call 719-286-3131
Find Your Local Painter

To better serve you, please let us know the location in which you need service.
Services We Offer

If you are interested in obtaining any of these services from Excellent painters
please use the button below to schedule an appointment with one of our estimators.
---
Here's How It Works
When you contact Excellent Painters to get your fence or deck stained or painted we will first send out an estimator to take a look and make some measurements. They will talk to the homeowner to get an idea of what they want and collect all the details. They will then provide the customer with a free no-obligation estimate. Once the estimate is accepted, a Project Manager will contact the customer to determine a good time for the work to be performed.
On the specified date the crew will arrive and go about preparing the wood. They will give it a good scrubbing to remove any dirt or grime and scrape off any old loose paint and sand down any splinters. If there are any loose nails they will get hammered back in. If any boards need to be replaced, this will be done at this point.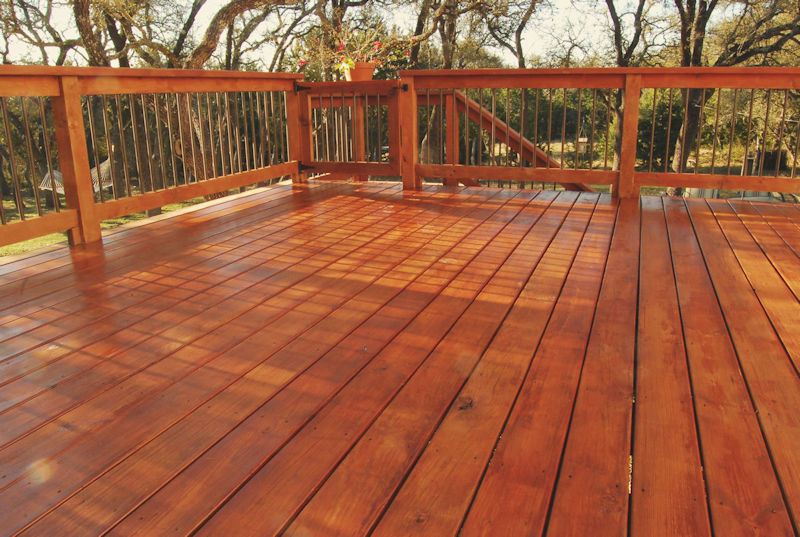 Now the fence or deck is ready for primer or stain. If you're staining, go for it. If painting is the plan, then you need to put on a coat of primer first. The primer covers up any old paint or stain and makes a perfect surface for the new paint to adhere.
The final step for a stain fence or deck is the clear sealant. This will protect the world in much the same way as paint does. Sealant will prevent the wood from drying out in the sun, soaking up water in the rain, and basically keep the wood looking nice much longer than if the wood is not sealed.
If you're painting, this is it. Paint your top coat of paint over the primer and let it dry.
You're done! Enjoy your fence or deck.