Cabinets in your kitchen, bathroom, or anywhere in your home can be expensive to replace. If the cabinets are still sturdy and usable but don't look so great, we can paint or stain them for you. We can paint over wood, plastic or metal cabinet surfaces. Give your kitchen a whole new look without having a huge hit to your finances.
Why Paint Your Cabinets?
It's cheaper than replacing them. New cabinets are very expensive.
The demolition involved with removing the old cabinets is costly and messy.
It's quicker. It will only take a day or two to prep and paint a whole kitchen full of cabinets. But it will take 6 weeks to have new cabinets built, delivered and installed.
People only see the fronts. There's no reason to remove perfectly good cabinets that are already on your wall when most people only see the doors and fronts.
It will transform the whole look of your kitchen. Painting dark brown wooden cabinets white can change the look and feel of the kitchen from small and closed in to big and airy.
It will improve the resale value of your home. If you're looking to sell, painting your old dark wood cabinets white is the cheapest thing you can do to increase the resale value of the home.
or Call 888-521-17811
Find Your Local Painter

To better serve you, please let us know the location in which you need service.
Services We Offer

If you are interested in obtaining any of these services from Excellent painters
please use the button below to schedule an appointment with one of our estimators.
---
How It Works
Our estimator will take a look at your cabinets and talk with you about how you want them to look when they are done. They will then take some measurements and generate an estimate of the cost for the project. Once you have accepted the estimate our project manager will contact you to schedule a time when the work can be performed.
On the day the work starts our painting crew will first remove the doors and drawers from the cabinets. They will also remove the handles and drawer pulls. (If you want to change those, this is a perfect time to do it.). If the weather is nice and you have a yard or driveway they may take the doors and drawers outside to prepare and paint them.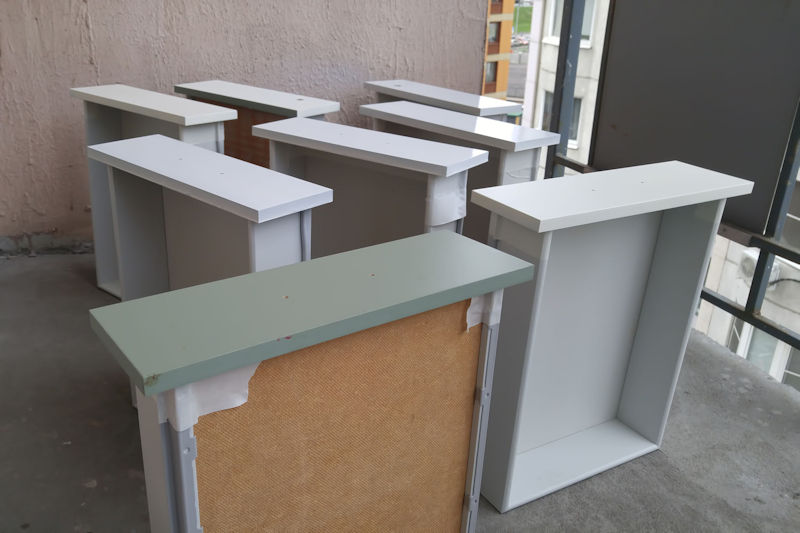 Next, they will prepare the cabinets and doors for painting. They will start by cleaning the cabinets, doors, and drawers. If there's any damage to the surfaces, such as holes, dents or gouges these will be filled in or fixed. If the cabinet hinges are broken or damaged this is a good time to replace those, too. Preparation may also include sanding down the surfaces, scraping off any old paint and generally making sure there is a nice clean smooth surface that's ready for paint.
In most cases they will apply a coat of primer at this time.
Now they can paint. They may use a sprayer or a brush, but either way, they will apply a nice even coat of paint to all the surfaces that show when the cabinets are closed.
Once the paint has dried they will replace the hardware on the drawers and cabinet doors. Then they can re-hang the doors and put the drawers back in their slots.
Done! Enjoy your newly painted cabinets.